Finding us in 2023
Last year Mobility Camp  moved to 1:45 in Center Camp Plaza (Center Camp Plaza is it's own little Clock) But we do not know yet where we will be located for 2023
Please, Please, Please Contact us early!!!
 Feel free to contact us with any questions you might have.
If you are mobility impaired or looking to volunteer read on – and learn more about our camp, the services we offer, and how you might join us!  Our camp does get full – we still have camping for both the mobility impaired and the able bodied.
2018 saw the second Wheelchair Lamplighters!! More Radical Inclusion at it's best!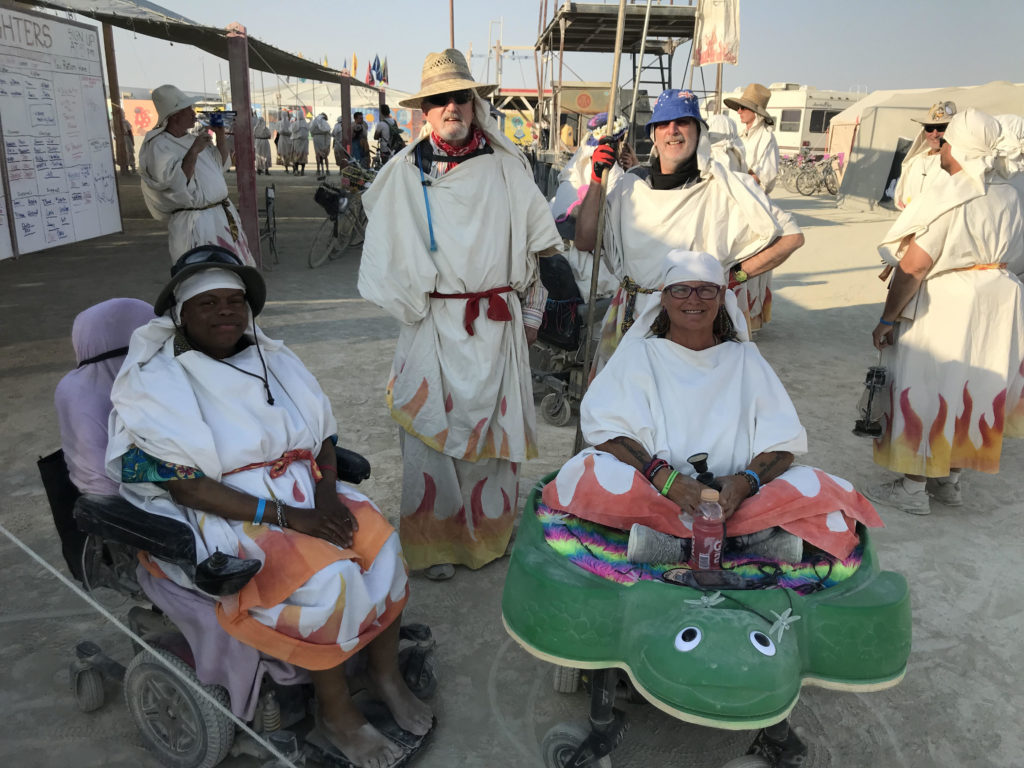 Mobility Camp, located in Center Camp Plaza at 1:45
We provide wheelchair accessible Camping, power for Medical Equipment, We take our new tractor and 23 ft accessible trailer rig out into the playa 3 or 4 times a day so that those who cannot bike, or walk and have no means of transportation, can still experience the Man, the Temple and the Playa Art!
Here is our new tractor and trailer rig we were able to buy and modify with your financial assistance in 2018!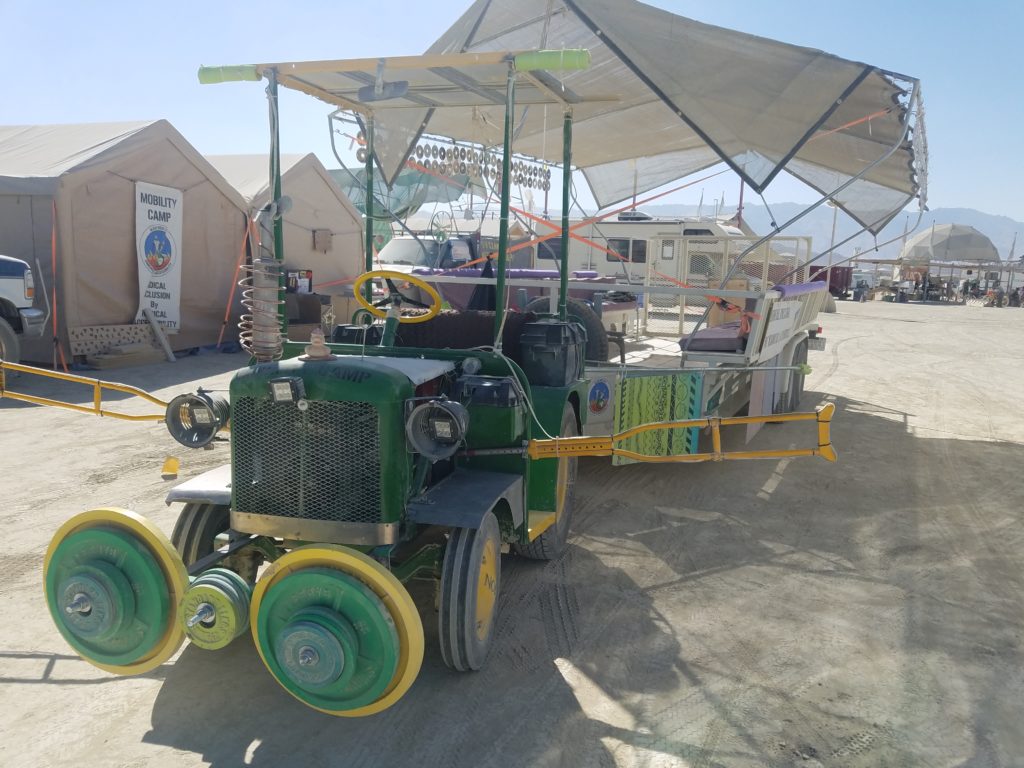 Mobility Camp also provides educative support to the alternatively abled, as well as their supportive friends and family via our website and email prior to the Burn, where we try to answer any questions you might have.  We have a lot of experience to offer to those who wonder if it is even possible to go to Burning Man.  We can help you  make your own camp or art car accessible in the spirit of radical inclusion!
We are developing our Resources Page, please email us  with any tips or tricks you might have, or know of, which would help the mobility impaired on or off the Playa.
We didn't just move on Playa! Our storage facility in Reno closed permanently June 30,2022.
So we had to find a new home for Mobility Camp off Playa. We were lucky enough to find a great place in Fernley, NV, even closer to the Burn!
We continue to work on building a strong camp team for future burns, if you are interested, please contact us!  We had a full 2022 camp, but continue to look for burners both mobility impaired and able bodied who can add to our experience and the experience we offer to others. We are proud to be able to continue the 25 years of support and services by Mobility Camp to the mobility impaired, in the name of radical inclusion! We are always looking for your help and support.  We welcome volunteers and other resources should you be in a position to help, please visit our wishlist page. Thanks ! Please feel free to contact us and make your suggestions. We are going to do it better, and better and really great.
Anyone that you know, who is alternatively abled, can have a great time on the Playa!  Pass
our contact information on, and/or email us for more!
Email Rat Lady  :  brcaccessibility(at)gmail.com